Leasing a flat
Renting a car
Setting up the new flat
Another difficult obstacle for flatting in Brazil is that a flat comes completely empty, so if you're moving for the first time you have to buy everything from the toilet seat to the kitchen sink. We got everything at a big second-hand place called Mercardo das Pulgas (except the mattress, shower and aforementioned toilet seat!). We spent R$1400 at Mercardo das Pulgas which got us a fridge, an oven and gas bottle, a sink unit, a kitchen bench and drawers, three small computer desks, two office chairs, a sofa, and a tall cabinet with shelves. Here's some pictures of the lounge/office area initially and after we populated it with some content…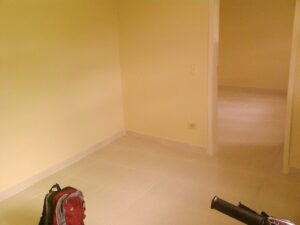 Many miscellaneous items required
Installing the kitchen sink
The kitchen sink can be a bit difficult to install depending on the layout of things. Flats come with just a pipe protruding from the wall of floor and you have to buy a kitchen sink unit. You can get these new from super markets or hardware stores for as little as R$150 which gets you a kind of almost portable sink for campers, but still does the trick. We got a cheap second-hand unit with drawers and a metal sink top that fitted for about R$120. I had to drill a big hole in the bottom and then awkwardly lift the unit up and put it down over the pipe. It then needs to be connected with a flexible pipe which you can get from the hardware store for about R$5. We also got a second-hand gas oven for about R$160 and a gas bottle for it for about R$50.
Water
The last picture shows a water bottle and holder – it's best to buy drinking water and just use the main supply for washing and showers etc. There are many places around that will deliver the water to your home ranging from about R$5 to R$10 each time a bottle is delivered. The bottle holder base can be bought from any super market. Most of the brands of water available, especially the R$5 ones have a lot of added Fluoride, but we prefer natural mineral water with just the natural level of Fluoride. We were using Timbu at the penão which was R$8, but in São Lourenço it's R$10 and there's another called Encantada for R$9 which I like better (Timbu is from a very limestone rich region which affects the taste).
Installing a shower
Installation of the shower is pretty straight forward – just screw it onto the pipe and connect the power wires. A couple of important points though; screw the wires into a connector block don't just twist them together, and try and position the join high enough to avoid direct water contact. Also, ensure that it's turned off when you turn the water on for the first time because the mechanism can burn out if it has power and is not filled with water.
Internet connection
We don't have a TV though which was so unbelievable to them that it took them over a week to wrap their heads around it and start to figure out how to install a phone line for such people – when we told the installer that we weren't planning on getting a TV, he almost had a seizure as he exited backwards down the driveway sweating and clutching at his head with one of his eyes twitching.
The connection may take a week or so to get set up, so I've paid R$35 to Vivo Internet to activate my trusty USB 3G modem for a month (250MB at 1Mbps, then unlimited traffic at 128Kbps after that's used up). This is actually a really useful thing to know, especially when travelling – even though 128Kbps isn't a great connection speed, it's perfectly fine for normal email and browsing activities and it's unlimited and you can take it with you wherever you go for only R$35 (NZ$23.46) per month.
You do have to have a mobile wifi device to plug your Vivo SIM card into though, but any standard brand such as the popular Huawei E17x's. Also if you don't have one, most phones these days can tether to your computer as a modem via USB or Bluetooth, and finally Vivo can throw a USB modem in with your plan for an extra R$150 which is actually a pretty good price.
Breakfast at the new flat 🙂
LED bulbs arrived
LED light bulbs produce a much calmer light because there's no flickering. They come in all colour-temperatures and last for about 25 years. They currently cost from US$15 to US$20 depending on brightness and colour-temperature. They use about half the power of an equivalently bright fluorescent bulb, and the LED technology is improving rapidly with the next generation expected to halve the power consumption again. Here's a picture of the one in our lounge which is produces about 1100 Lumens and consumes 10W of power. A typical 60W tungsten bulb produces about 900 Lumens of light.