We arrived at our hotel in Curitiba at about 8am on the morning of Monday the 24th after a trip of about ten hours from Foz do Iguaçu. The hotel is located right in the main centre next to the Mueller shopping mall, there were some other choices for hotels and pousadas in nicer areas, but we decided that it would be more convenient to be located right in the centre so it was very easy to get to all the places we wanted to see. We only have four days in Curitiba, but Beth and I lived here for a year so we know it pretty well and can get around quickly. Curitiba is our favourite city in Brazil and being here again we realised how much we miss it 🙂 Curitiba is planned very well and has great support for getting around on bikes or walking. They have a bike lane (which we call "bikee lanee" to pronounce it the way Brazilians do when they say it in English!) which has a nice portion about 10km long that runs north-south perpendicular to all the traffic along a water way. It goes past some nice bosques (small forests) and other interesting places. The transport system in Curitiba is all done by buses and the main roads are made with a wide lane in the centre which is just for buses (they're very convenient for cyclists too, but it's important to remember that it's made for buses not cyclists!). Many of the main buses are very long articulated ones composed of three segments as shown in the picture below.
The start of this nice segment of bikee lanee is only about 5 minutes walk from our hotel so we went for a walk for an hour or so shortly after we arrived and had breakfast. We wandered along bikee lanee for about 20 minutes until we reached the Bosque do Papa which has some replicas of old Polish settlers houses and a nice walk through the small forest which leads to the Museu Oscar Niemeyer, but we didn't go there because it's closed on Mondays. So instead we went to our favourite café in Curitiba, Caffè Fruttato which has excellent coffee, nice and affordable sandwiches and pastries and a really nice garden with a pond containing huge gold fishes and a big turtle 🙂
For lunch we wanted to go to our favourite Chinese vegetarian buffet but it had closed down 🙁 so we had to search for something else and eventually found another more typical buffet that was quite nice and reasonably priced. In the evening we went for a walk around the old historic centre of Curitiba which still has a lot of the original buildings and is paved with cobblestones. We then went to our favourite restaurant, the Brooklyn Coffee Shop, for dinner. Unfortunately Brooklyn has gone down hill a lot, our favourite vege burger was no longer anything special but had gone up a bit to R$18, and the tap beer was flat 🙁 at least the brownie and ice cream was still very good and Dad and Mum were happy with their burger and Caeser salad.
On our second day in Curitiba we caught the bus to São Lourenço which is the neighbourhood we rented our first flat in Brazil. We visited our old neighbours to say hi and then walked about 15 minutes to Parque Livre.
We then had some lunch and visited "grandpa" who has a great variety of ice cream flavoured with real fruit. We then walked across to Bosque Alemão which is a park built in honour of the German immigrants who began to settle in the city in the early 19th century. In the park visitors can walk on the trail of Hansel and Gretel and reach the gingerbread and candy house, where usually on Saturday afternoons children listen to tales told by the witch.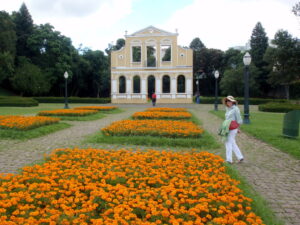 In the evening Mum and Dad went to the mall next to the hotel for dinner as it has a big food hall in it with a variety of options, and we went to a little pizza place we've been wanting to visit for a couple of years 🙂 It's a very interesting place because it has no proper name or brand and makes pizzas a very traditional Italian way. There's even been a news item about them. The next day, Beth and I had a day to ourselves and Mum and Dad went on the tourist bus which travels in a loop via twenty seven different places in Curitiba. For a fixed price of R$29 you can get off at five different places and then get on the next bus that goes by to see the next places. They go by every twenty minutes or so. They stopped at Jardim Botanico (botanical gardens) and Parque Tangua and got some shots of the buildings in memory of the Ukrainian settlers.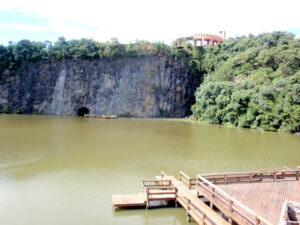 On our last day together in Curitiba we went for lunch at a Chinese buffet that was our favourite before we found the vegetarian one we tried to go to a couple of days earlier but found it closed down. This one doesn't have as nicer ambiance and isn't vegetarian-only, but it is exceptional value at only R$8.50 (about NZ$5) for all you can eat! and does have a very wide range of food including many kinds of fruit and vegetables, sushi, various rice and pasta dishes, deep fried prawns and fish and much more 🙂 on the way to lunch we went via the open market so Mum could get some more chia seeds. The market has a huge range of specific goods such as seeds, herbs and peppers as well as all the usual fruits and vegetables.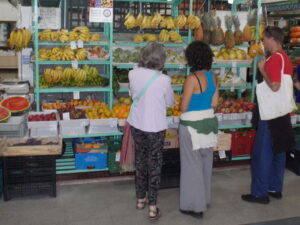 The next morning Beth and I had to catch the bus very early for a long twenty four hour trip to Brasília, but Mum and Dad had an extra day in Curitiba as they were catching the plane the next evening instead which is only about an hour and a half! While we were sitting in the bus they did a walk around the historical centre guided by a friend of one of the receptionists of the hotel named Rafael. They visited a lot of the same places we'd already seen, but their guide knew everything about the history of the buildings which Mum and Dad found very interesting. One of the interesting things Rafael pointed out was that the Polish settlers houses shown below are not replicas but were the actual original houses that were dismantled and transported to the memorial park!