Well it's been a few months since Antonio left – and since my last post! The huge amounts of manure and the regular supply of water have definitely made a big difference, we're really seeing some things starting to grow well now. Here's the beds shown in the last post, there's three generations of carrots, broccoli, beetroot, parsnip and strawberries. Everything's doing pretty well there except that Borroro came and ate all the broccoli, and the strawberries have been the target of leaf-cutter ant attacks. The carrots have good mass and taste good, but are very malformed even though the beds are raised and the soil soft, so we have to figure out what's wrong there. We've started putting orange peel down to attract the ants away from the strawberries which seems to be working so far, and we'll need to put more wires in the fence to prevent the dear and rabbits from getting in.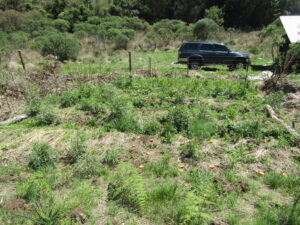 All the beds parallel to the north fence are doing very well too, you can see the full history of all those beds in vege patch, there's turnip in bed C, garlic in D and E, onions in F and parsnip in G.
The vege patch by the house is going super well too with big broccoli and huge kale (even though it was supposed to be cauliflower), mustard, watercress, rocket and other stuff that we're not sure about the English names for. Also some herbs; parsley, oregano and spring onion.