I decided to start this week by doing some more finishing touches to the net connection, getting the pipe installed nicely into the house and attaching some permenant cabling and switches for turning the inverter and router on and off 🙂 Of course nothing works simply these days – today's lesson is; if you chop LAN cables to use them to connect to your other cabling, don't assume that they use the proper TIA/EIA-568 standard for having the colours assigned to the correct pins! I spent hours testing and replacing cable segments before I finally realised that the colours were essentially randomly ordered in many of my LAN cables!!!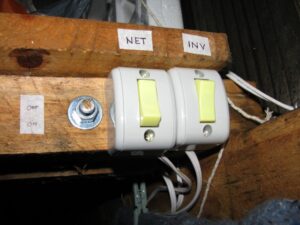 It seems like there's some kind of IT curse on me at the moment, I was finally back on line and able to start getting work rolling again when my hard drive that I only bought six months ago died! it started complaining of bad sectors and wouldn't boot and when I booted in on a USB stick to check the disk and map out the bad blocks the disk was in too bad a state for the test to even complete! I'm kicking myself that I decided on another mechanical disk again after the last one went down, I almost went for a 256GB solid-state drive, but felt that it wasn't enough space 🙁
Meanwhile Beth made excellent progress and got the polystryrene insulation into the ceiling and we've now begun nailing the ceiling boards up 🙂 We bought 23 boards of 1.2m x 2.4m x 8mm plywood for the inside walls, ceiling and some cupboards which cost R$23 each and were delivered at the start of the month. The truck was able to get right up to the other side of the swamp around about where the net pole is now that the road has been improved so much.
They're a bit too heavy to hold in place and hammer even with both of us so we worked out a method of hammering some nails into the sides of the structural roofing beams and using them to support the main weight of the board via a couple of lengths of string tied around them which you can faintly see in the third picture above.
Installing the boards on the other side of the house was a little more difficult as there's no loft to help us get it into position, so instead of string, we created two strong supports from fencing wire and a wire tightener, but it still took some intense yoga exercises to get the corner one into place!