This week started with some good progress on the solar panels – I got all the cells installed into the first panel and wired it up! I started by drilling four holes into each panel and putting some sturdy bolts through so we have a good strong means of mounting them later. Then I screwed a plastic base onto the frame of the first panel with holes drilled into it to make way for the bolts. The plastic is to avoid the cells being directly on the wood which may get moisture on it and can bend or expand and contract in differing weather conditions. The plastic was also useful for raising the surface so the cells aren't in contact with the bolts.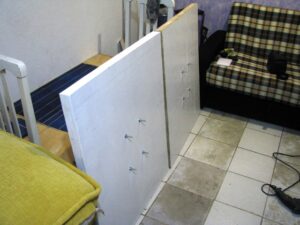 And finally, the process of actually getting the cells into the frame. Before actually bonding the cells to the plastic, I thought it would be best to test that the silicone we're using would bind well to them both, so I took a small piece of cell that had broken off one of the corners when I was soldering them together and did a test.
Here's the first panel all wired up and the voltage tested and showing at a little under 10 volts – which is right for a fairly overcast grey day 🙂
And then the same process for the second panel…
And then we do some final tests to ensure they're both working correctly before calling the glass guy 🙂 here's both panels wired together in series with the voltage showing as 17.88 which is very good since they're in the shade with no direct sun light on them anywhere.
And finally putting the glass in! it only cost an extra R$5 for the glass guys to come over and measure everything and then bring the glass here to us, and then they install it for free so we decided we may as well let them do it 🙂