"'Happy birthday Dad!!!
We made you an awesome potato pie for your birthday present and ate it for you too 🙂 Here's a picture of your pie – and of Beth eating your birthday cake for you! The last photo is from the last time we were at the pub which must be almost two years ago by now – you only had a tiny beer as you had to go to info centre shortly after 🙂
This week the weather was pretty bad on Friday so we delayed heading back to the land until Saturday since we wanted to catch the bus to an even closer bus stop than the church and then walk the rest of they way – about 8km I think. This bus stop (shown below) is at the start of the route to our land that we went on one time with the car (the one we all agreed we'd never drive on again!), but for walking it's the best option we know of so far. It took about two hours, but we were going quite slow due to carrying a lot of things – such as 100 meters or fencing wire round my neck and 100 meters of power cable on my head!
It's lucky we moved in to the house last weekend and didn't delay another week, because when we arrived this time, the tent had finally given up the ghost – as well as all the usual problems of broken poles and snapped ropes, it had a large rip in the side and what had been our bedroom had a small lake in it!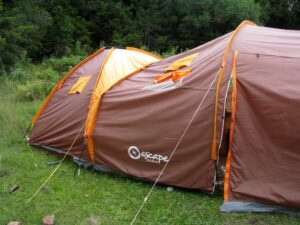 On Sunday I got the cable for the second half of our net connection in place. The distance to cover for the second half was about 100 meters which is longer than expected – I think due to making an error in the original distance calculation; I said that it was 160m on the map, but that it should be less than that in reality since its a hill and we'd be stretching the wire straight – but the 160m map length is already the straight length and in reality we can't stretch it completely straight, so its longer than 160m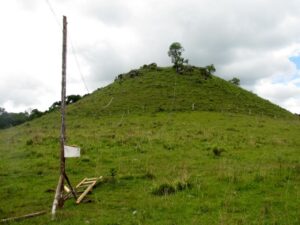 I got some good macro shots of a grasshopper eating a flower and of one of the odd looking yellow test-tube-cleaner caterpillars 🙂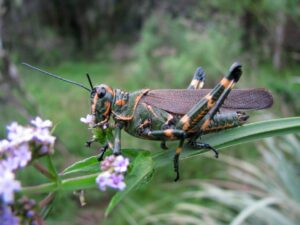 I only stayed for one day this time as I had to be back on Sunday night as usual to be in contact for work on Monday morning, but Beth wanted to stay longer, and since it's a lot safer now that we're in the house she decided to stay a few more days by herself 🙂 I walked back the same way we came to catch the bus back, but I had to wait over an hour at the bus stop because I only took an hour twenty five to walk back, and the bus was later than we estimated.