We set off from Cambará do Sul about 9am so we could get up to Florianópolis by early evening. The drive was a bit longer than expected because the routes that Google maps provided us turned out to have very long stretches of rough dirt road on them which we didn't want to risk in our tiny Fiat packed full of baggage and people! So we had to go south out of Cambará instead of north, then turn back north from Terra de Areia about 75km south-east of Cambará. You can see the route that Google gave us in blue on the map below, and marked in red is the route we ended up taking after talking to some locals. We then got into Florianópolis which is about 350km north/north-east of Cambará at about 6:30pm. The weather was misty and rainy all the way up, and Florianópolis itself was pouring and looked like it was seriously set in and the weather forecast says it will be like this for the whole week!
Our pousada, Porto Lagoa (located here) was really nice, a well made tidy and spacious wooden house with kitchen and lounge area down stairs and bedrooms up stairs. It's situated close to Lagoa da Conceição east of the middle of the island and is very close to some nice restaurants, cafes, markets and other shops. Actually we highly recommend people stay at this pousada when they come to Florianópolis for the first time because the guy who runs the place, Paulo, speaks reasonable English and knows all the trails and attractions inside out – in fact he designs the maps for many of the tourist establishments!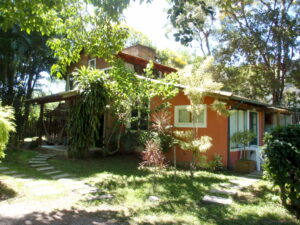 The rain let up a bit later in the evening so we went up the road for some Sushi as there's a nice looking place only 100 metres up our road. It was really good sushi too, better than I've had in years! the chef was really nice too and talked to us a lot to practice his English – he also made lots of nice special dishes for us like a small dish of fish marinated in lemon and a dish of salmon decorated into the shape of a rose and served on fire! (missed the photo of that dish sorry)
Amazingly the next morning was perfect blue sky even though the forecast was still saying there would be nothing but bad weather persisting for the whole week 🙂 so we decided to make the most of it and get down to the beach asap! Paulo, the guy who runs the pousada, recommended some good places we could go during our stay here including a nice local track through the sand dunes to Praia da Joaquina which is one of the main beaches to see in Florianópolis. We could tell it was definitely a local track by the extremely dodgy "bridge" across the swamp to the dunes! The beach was really nice with very fine white and gold sand, massive dunes to jump on, and perfect blue ocean with largish but very safe waves to swim in 🙂 The north end of the beach was quite populated, but not too bad since we've arrived shortly after the holiday period, but most of the beach was empty and quiet.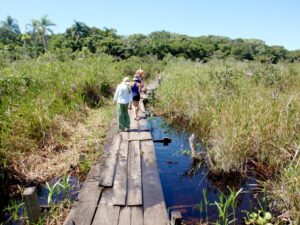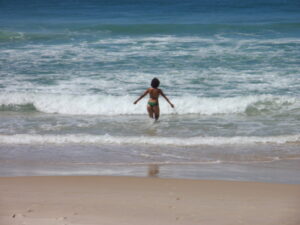 Today (Saturday) we went to the south of the island. It was a really nice area down there with very quaint little villages right up against the sea (the sea is very calm there since we were on the western side which is facing towards the mainland). It reminded me a lot of Devonport about 30 years ago with all the little old boats on the sand 🙂 we liked it so much there that Beth and I called up a number we saw on a small 1000m2 section a few streets back from the beach with a run-down little house on it that was for sale, but we didn't entertain that thought for much longer when they told us they wanted at least R$1 million for it!!!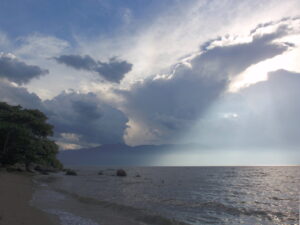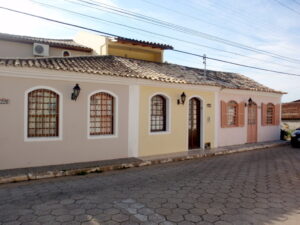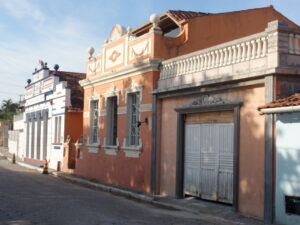 We also got some nice shots of a butterfly we haven't seen anywhere else and some cool local graffiti 🙂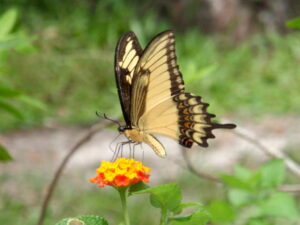 Dad and Mum spotted a couple of tiny monkeys with long bushy tails in the tree outside the pousada, but unfortunately the little things were flitting about too fast for them to get any photos. They were very cheeky too, when Dad was looking up at them they both all of a sudden simultaneously propped their bums up and peed at him!!! We were able to identify them well enough to find out what they were though which is a Black-tufted marmoset, you can see how small they are from the photo we found below of one of them with a bunch of bananas. Later in the day we went for a walk around the town centre and Dad managed to snap a great shot of a fisherman casting his net just as we were walking past.
On Monday we got up early so we could get started on a 7km bush walk around the side of the lake before it got too hot. The trail ends at a place with some restaurants we could have lunch at and then take a nice ferry trip back rather than walking in the hot afternoon sun. It was a very pleasant trail with a lot of nice places to stop and enjoy the beach by the side of the lake, small waterfalls, and an old mill house.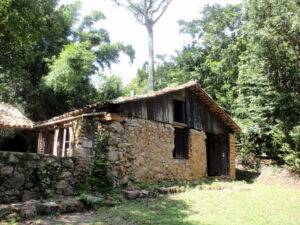 Unfortunately the heat became too much for Mum after a few hours and we still had a few km to go to get to the end, but luckily just as we thought it best to stop we arrived at "Ponto 13" (the 13th stop of the 19 in total). The guy there was very friendly and advised us that the waterfall further on was very dangerous and we'd be much safer drinking beer at his restaurant! well being a local who had lived there all his life we thought he probably knew best, so we sat down for a beer and a nice meal of prawn muqueca 🙂 the guy was very down to earth and sat with us at our table talking about local life there, he also showed us some of the model boats he'd carved from the local drift wood – some of them have even been taken back to New Zealand by various visitors over the years! We then caught the ferry back to "Ponto 3" where we'd left the car.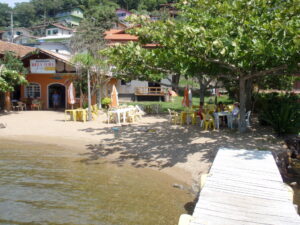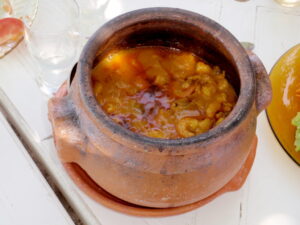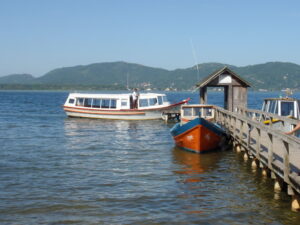 Today, Wednesday, is our last full day in Florianópolis 🙁 we decided to go and check out a trail that sounded not too difficult at the south east end of the island which started at a beach called Solidão. The beach and trail were very nice, the trail passes some small houses where the people still live very simply without any electricity, one cute house had a nice white horse in it which followed us a little way down the trail. The trail ended at another nice beach and a restaurant that we were going to have lunch at, but it was closed! as it turned out it was very fortunate that it was closed though, because after we walked back we found a really awesome restaurant called Ana Maria at the end of the next beach to the north, Pântano do Sul.
We had a huge meal of four types of prawns, fish, chips, rice, salad and even a couple of fish balls and a small deep fried crab that only cost about eight NZ dollars each! plus they sold a local type of Guaraná that was so nice that even mum had a few glasses and she normally hates soft drinks! The north end of the beach was a really cute little village that was right on the beach – so much so that the waves were coming in past the parked cars! we also saw a boat on the beach which looked at first like it was named Zenia, but turned out to be Zenir 🙂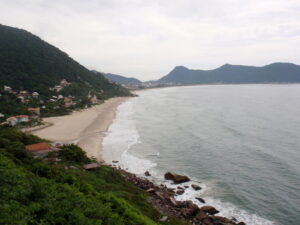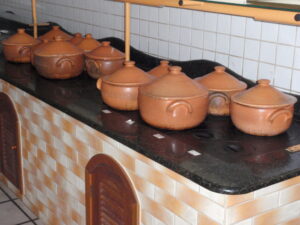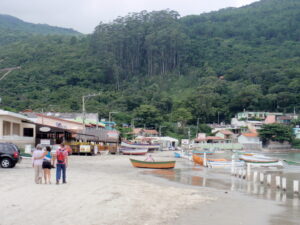 We left Florianópolis on Friday the 21st and set off in a bus 936km west to the Iguaçu falls which is located on the borders of Brazil, Argentina and Paraguay which you can see on Google maps here. We had to leave the pousada about midday, but the bus to Foz left at 6pm so we had a few hours to have a look around the city before we left. It was quite a change from what we had come to think of as Florianópolis because the area we'd being staying in the pousada was more like Waiheke island with lots of little cafés and restaurants, beaches, quaint villages and people walking round in their swimming gear often carrying surf boards with them. But the main city area where the bus station was is very much like Porto Alegre with open markets, street performers and a lot of tall high-rises intermingled with older buildings. We wandered around for a bit and ended up relaxing in a nice bar with well priced prawn pastels and nice tap beer, the fish and prawns in the market were well priced too and all caught locally on the island. The shot of the bus below is taken at one of the stops along the way at about 3am, every few hours it stops so people can stretch their legs, have a quick smoke and buy a coffee or snack.