We arrived in Cambará do Sul in the late afternoon and unpacked our things into the pousada that Beth had booked a few weeks ago. We had separate double rooms with a shared deck which you can see in the photo below, our room is on the right and Mum & Dads on the left, and the middle door is the hallway. Cambará has a lot of nice waterfalls and canyons which we'll go and look at over the next few days.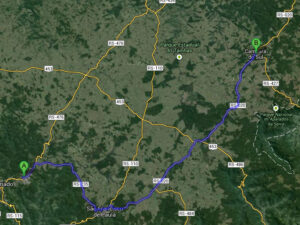 Cambará is a very small tourist town about 170km north of Canela and Gramado, there's not really much for the locals to do as everything is set up primarily for the tourists, so they're left to find their own entertainment like this young fellow practising his lassoing skills on a wooden cow in the main street…
The guy who runs the pousada we're staying at had some pamphlets for the local restaurants and one looked really nice with a speciality of a fish or prawn soup served in a pumpkin. We went there and the place was very nice, but when we looked at the menu and saw that the pumpkin meal was R$90! well that's just highway robbery!!! we got straight up and walked out… but we couldn't find anywhere much better especially since Beth and I are vegetarian, so we ended up having to pay R$25 for a small bowl of soup! (at least it was nice soup though).
We got up early the next morning so we could get to the canyons early as the guy who runs the pousada had said that the visibility tends to be better in the mornings. The breakfast served at the pousada was simple but nice with a few different kinds of breads and cheeses, a toasted sandwich maker and some fruit. To drink there was coffee, fresh pineapple juice and a carafe of a nice Brazilian drink consisting of Mamão (large papaya), banana and milk which all go really well together.
We then set out for Parque Nacional Aparados da Serra which are the canyons closest to the pousada. Unfortunately visibility was very low, it cost about R$25 in total for us all to enter the park and they warned us that we would likely not be able to see anything, but we went anyway as we really need to get out and stretch our legs. Although it was extremely misty it was a very nice walk and we did get some quite nice pictures and met some nice people too, a couple from Spain and a girl from Russia 🙂
We got some nice close up shots of this big black vulture too!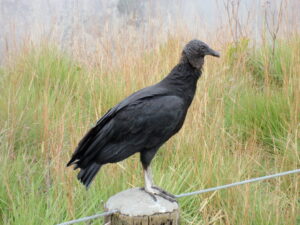 We asked the guy who runs the pousada (I should know his name by now!) if he knew anywhere we could eat that was more oriented towards locals rather than tourists – even he couldn't disguise his shock at hearing the cost of the soup in a pumpkin! he mentioned a small place on the main road called Regina which we went to and found really nice. It was simple food of Brazilian beans and rice, chips, salad, eggs and a steak for Dad and they had Mums favourite ice tea and espresso for me. It was really reasonably priced at R$13 for ours and R$17 for Dads with the steak and that included more rice, beans or eggs if we felt like more! not only that but when we arrived the restaurant part was closed that night and the women opened it up especially for us! I think we'll go there again tomorrow night 🙂
Today (Wednesday) we went to Parque Fortaleza which is a bit further away. It was even more misty today, but this place was amazing! the canyons were huge (over 1000 meters deep) and there were no signs or fences or anything there, which is extremely dangerous but made it a truly awesome experience. We found it incredible that we were able to sit right on the edge of a vertical drop over a kilometre high! You had to sit down and shuffle towards the edge to avoid getting vertigo and feeling sick and dizzy!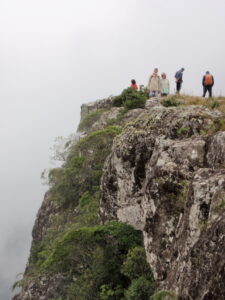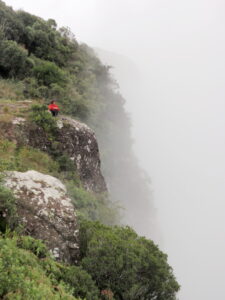 When we got back to the car there were some small Graxaim (Pampas fox) there waiting for us 🙂 we have these on our land and we hear them calling each other nearby in the forest most nights, but we haven't actually seen them yet so it was nice to see some here today. They're very cute and it looks like they're used to the visitors at the park giving them food scraps, so I thought it would be a nice idea to give some of our granola to one of them…
Lesson learned: When a place that doesn't even bother to put handrails at the edge of thousand meter cliffs puts signs in the car park telling you not to feed the wild animals, you don't feed the wild animals!