The drive to Canela and Gramado from Porto Alegre is about two hours, the first hour is quite boring as it's all through the industrial outskirts of Porto Alegre, but the second hour is a nice drive through natural bush which is very similar to driving through New Zealand native bush. The altitude raises slowly from sea level up to about a thousand metres. The following photo that's almost a compulsory shot is the view from the bridge leaving Gramado on the road to Canela which is about 7km further. On a very clear day you can see hundreds of kilometers into the distance and really get a bit of an idea of the size of Brazil which is almost six thousand kilometers from top to bottom!
We rented a nice little pousada in Canela as a base while we visit some of the sites around here over the next week, so we dumped all our stuff there and got an early night. A pousada is something sort of halfway between a hotel and a B&B and are a very popular and cost-effective form of accommodation in Brazil. The next day after a compulsory stop at our favourite cafe (Confeteiria Martha) we decided to show Mum and Dad our land since the weather was good and it could possibly be the only chance to get there in our tiny red car! The quickest route by car is to go via Barragem do Salto which is a dam about 18km from our place (our place is about 35km out of Canela).
Driving across the dam can be very dangerous because the road has huge breaks and pot holes in it, and after its been raining the water raises up over the road concealing the uneven surface completely. Dad was quite shocked because the road is never closed even though the water level will sometimes be a metre over the road with a very powerful current making it impossible for even the strongest 4×4's or trucks to cross. We've crossed it in our Lada Niva with about 30cm of water and even that was pretty touch and go!
It's a real contrast to the "nanny state" method of governance we're used to in the west. Another similar thing Dad and I find really interesting was the way that buildings are constructed over here, where they form the main structure from concrete using old wood panels nailed together to form molds to pour the concrete into that are held up with tree branches. Bricks then fill up the walls between the concrete supports. This method is used for nearly all buildings from one or two story shops up to huge forty story apartment blocks and allows any construction company to do it without needing cranes to lift heavy prefabricated concrete panels.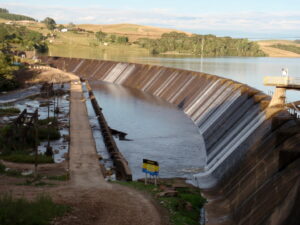 The little red car made it no problem, but we left it at the top of the road about a kilometer from our house because the last bit of the road is the worst and if there was any rain we wouldn't be able to get it out again, so we hiked down the last bit with all our bags.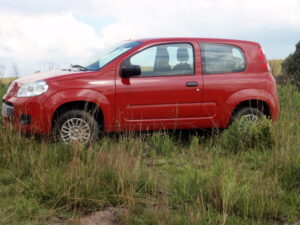 Mum and Dad were really excited to finally see our place in real life 🙂 they stayed for one night, but were a bit scared to stay longer as there was some rain and they'd remembered the photos we'd taken of the river rising up and coming only a few meters away from the house! So after some photos of the vege patch and a short walk around our little forest we had some lunch and headed back to our place in Canela again.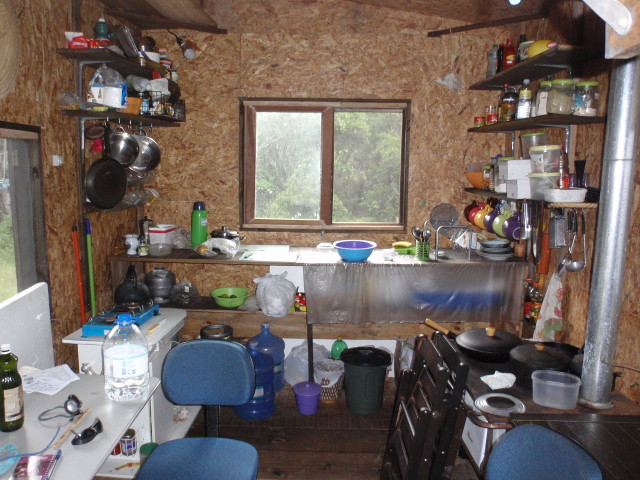 On Thursday we all got up early to go and visit Arca Verde (Green Ark) which is a rural community about 10km out of São Francicsco de Paula who grow all their own food using permaculture and agro-forestry techniques. They also make their houses with various natural building techniques such as straw-bale, mud & daub and adobe.
After that we went to Gramado so Mum & Dad could check out the architecture and culture there which is quite unique within Brazil. The whole place has a very strong German influence as many German settlers arrived there a hundred years or so back. Many people there still have a strong German accent and look quite German too.
Beth's Dad had got some of our soil analysed and the results said that it was extremely acidic. Mum and Dad recommended that adding limestone to the soil would help a lot with this, so today (Saturday) we picked up a 50Kg sack and went to the land again to plant some fruits, vegetables and nitrogen-fixers we'd got from Arca Verde and to spread the Lime over the garden beds. This time instead of going via Barragem do Salto (the dam) we went the longer way via Passo do Inferno (Hells pass), Vaca Velha (Old cow) and Lava Pé (wash feet). Even though it's a rough dirt road about 30km long this route with all its crazy names is actually an official numbered highway that the bus goes on! just imagine a bus timetable in New Zealand saying "old cow at 9:45, wash feet at 10:30" 🙂 This route is also much more scenic with some nice lakes and a big gorge which we stopped at to get a photo – there were also a bunch of Gauchos taking in the scenery and Dad managed to get a sneak shot of them too 😉
We left the little Fiat up the top of the valley again since it probably wouldn't handle the steep slope out again, so we had to come back for the sack of lime. Dad was feeling adventurous and volunteered to take Nivinha through the muddy forest path and up the hill to get it. Here's a shot of Beth looking very concerned about his impetuous decision while she's explaining all Nivinhas quirks to him!
But all went well and Dad got us through the mud safely – although he did drive our car into a tree! but Nivinhas such a sturdy Russian car that we were more worried about the poor tree 🙂
All the vegetables were much bigger and doing quite well, and there was even some colour in the vege patch – a few more tomatoes which we had with lunch and some bright pink flowers which almost have Mums name, they're Zinnias 🙂
On our last full day in Canela we all went to visit some friends of ours who are renting a place on some rural land in Barragem do Salto (the dam about 18km from our land). They had some other friends visiting too and one of them, Rochelle, had lived in Australia for a couple of years and was keen to meet us and practice some English 🙂 I took one of my large hacky sacks along as I suspected that it'd be something Rafael would enjoy, and I was right – me, him and another friend, Dennis, played for a couple of hours and I woke up the next morning having a fair bit of trouble walking as I haven't played for a long time now!
Like us, Rafael has the Bugio monkeys come and visit in the trees in their garden, unfortunately it was getting a bit too dark by then so the couple of photos below taken by Dennis are the best any of us could get of them. There's also a photo of Mum holding a brazil nut shell, none of us knew that the brazil nuts we're used to actually come in a group of eight or ten that are encased in an even larger shell about the size of a cricket ball.
Then on the morning of Monday the 10th we packed up ready to head off to Cambará do Sul. The dogs at the pousada were sad to see us go, but at least they were able to comfort each other 🙂 Before leaving Canela we had one last visit to our favourite cafe, Confeitaria Martha for some coffee and pastries.