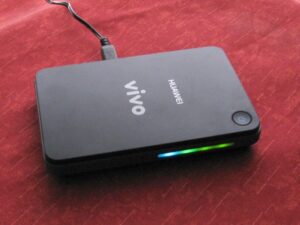 I'm at the pensão connected via my new Huawei B260a 2G/3G router today. The Vivo stores here in Canela and Gramado took over a month trying to get a router for us, but still nothing! so we ended up asking Beth's sister to get one from a Vivo store in Brasília and bring it down when she visited, and she gave it to us last night when we met up at the cafe.
It looks very positive of our connectivity potential on the land because the router is connected very much better than the little USB card was able to here in the pensão which means that we should have a pretty strong connection to the 2G tower from the rock office – especially since we'll be boosting the connection even more with a directional antenna and possibly a powered signal amplifier as well.
We're off to the land early this week (Wednesday morning), we're taking advantage of the holiday period to try and get some solid building time done. Like nearly everything in this adventure, the building of our house is quite overwhelming – the guy at the place we bought the wood off initially recommended we build a 5.4 meter square house since they can give us all the exact wood we need for that project. We assumed this meant that they could give us a plan for this size since they build it all the time – but no! when we asked for a plan, he just scribbled some notes about what wood was for what parts of the house and told us to nail it together "like this" (holding his hands in certain configurations for explanation). I couldn't believe it! but talking to Beth about it later it made a bit more sense – there's a lot of illiteracy in Rio Grande do Sul, especially in the trade industries, and most people just do things purely through practical learning without any reading or note-taking at all.
We made some excellent progress on the house which I've put in more detail in the Our house article, but here's a few photos. We're building a very small place which will later serve as a shed and workshop after we've built a better place from adobe or mud-brick. We also wanted to start with something very cheap and small to practice building since we've never built a house or even a shed before – this house has cost about R$1400 (about NZ$800).