After spending a few days in Caxias, we spent the last week of the holiday at our land again, there was a bit of rain, but the view from the guest house is nice especially when there's some mist rolling in over the hill 🙂
We went for a walk to the other waterfall when the weather cleared up a little bit. We drove most of the way, but stopped the car at the top of the hill at the start of the infamous Vaca Velha trail. I realised later that actually we could have driven all the way to the river as the road only gets really bad a few hundred meters past the other side.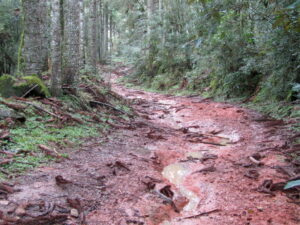 On the way back to the car, we noticed some fallen Pinhão so we collected some to cook for dinner, but then completely forget we had them and had omelette for dinner instead!
The next day we went back to Caxias where Beth dropped the three of us off at the bus station, and then went to take the car in for some repairs while we set off for Porto Alegre. We spent a couple more days there so that we could go to the public market, and Mum & Dad could get some good photos of some of the historic buildings and go to the museum. And then it was time for them to head back to the airport so they could get their flight to Chile via São Paulo and then a few days after that back to Nova Zelândia.
I got the bus back to Caxias and then we went to Canela in the newly fixed car and spent a few days there for Beth to do her drama course. This time we stayed in the building right across the road from the cathedral which looked right down on the apartment we all stayed in a couple of weeks earlier 🙂