Wow that year sped past in a flash! We've just got back from Brasília where we stayed with Beth's parents for a couple of months for Christmas and New Years. It's always good to catch up with the family and spend time with them, but we have to remember in future not to be away from our land for too long because we start really missing the peace and tranquillity of having natural forest all around us. We have another three months away soon too because we're visiting New Zealand, but after we get back we plan on spending some really solid time here!
One interesting thing that we did in Brasília was to do some bike Mechanic lessons with Beth's friend Danielson. This was mainly for Beth because she felt very unconfident about fixing anything mechanically on the bikes, but it's made me more confident too because there were some things I didn't really understand too such as the gear adjustment mechanism. He took us through assembling a bike completely from scratch and now Beth feels really confident to fix anything on our bikes 🙂
Remember the Habanero source that was too hot to handle? Well shortly after it was made I put two olives in the bottle, one for me and one for Beth's dad, the challenge was that on the last day of out visit, we would both eat one of the olives! Well I ate mine, but Beth's dad cheated and spat his out!!! It was pretty hot, but luckily we had ensured that we had some ice cold beer in the freezer to cool off with 🙂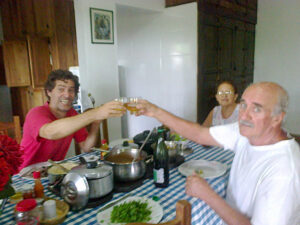 We caught a plane back to Porto Alegre a couple of days ago, stayed in a hotel there then got a bus to Canela where we hired a car which we'll use for a few days while we get supplies and arrange building materials. We have to build a house over the next few weeks since they won't connect the power to our new pole unless there's a house within 40m of it (and they didn't want to put our pole close to our current house because they thought the truck would get stuck in the mud).
When we arrived, every thing was really overgrown as usual, but amongst all the tangle of weeds we found heaps of ripe tomatoes and some grapes are ready too 🙂 The mulberry trees that had died from the intense surprise frost last year have regrown to the size they were before, and the banana tree is looking really good too – the tiny one that cropped up next to it is pretty big now as well!
The strangest thing we saw when we arrived though was that a pumpkin vine had travelled all the way out of the vege patch straight to our door as if it specifically wanted to visit us in our house! Perhaps this is the way that home delivery works in the wild 🙂